Facilities at Muddlebridge House and Holiday Cottages in North Devon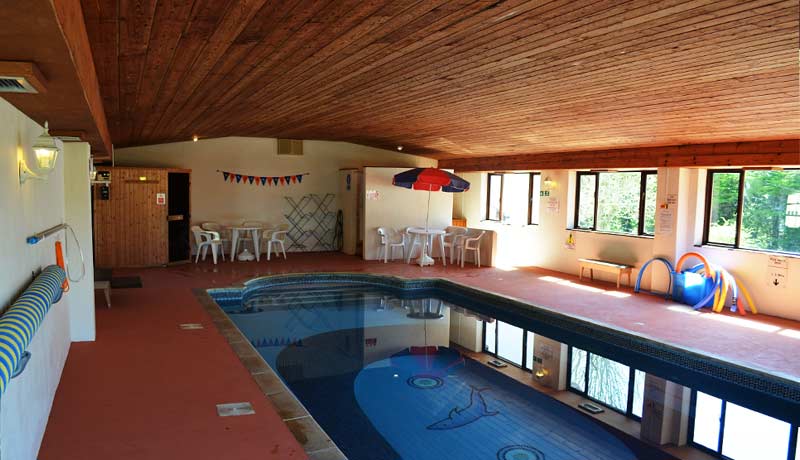 The fully tiled indoor pool is 8m x 4m (28' x 14'), with a depth range from 1.0 to 1.5 metres, and heated to 81deg°F (approx.27.5°C). It is open for use from April/Easter to the end of October half term week. The light and spacious pool building is fitted with two changing cubicles, a shower and wc (and the sauna cabin - see below).
The pool is available daily from 9.30am (except Saturday mornings). Through May to mid-September it closes at 8.00pm, but at around dusk/6.00pm at other times of year. Because the pool is not covered by lifeguards, guests are given a short briefing on safe use prior to using it for the first time. Adults may not use the pool unless another adult is present in the building, and under 16's must be closely supervised by a responsible parent/adult at all times, whether in the water or in the pool building.
---
The sauna cabin is located in the spacious pool building. It seats up to six or two reclining. A £1 coin provides one hour's heating of the stove which gives a hot cabin for 30-40 minutes.
A few drops of lavender oil in the pail of water, to be sprinkled on the hot rocks, add to the relaxing experience.
Children over the age of about 5 years may use the sauna under close parental supervision.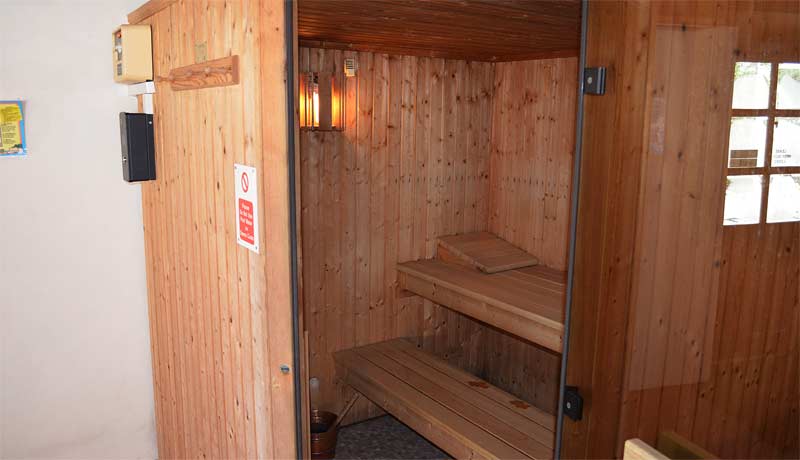 ---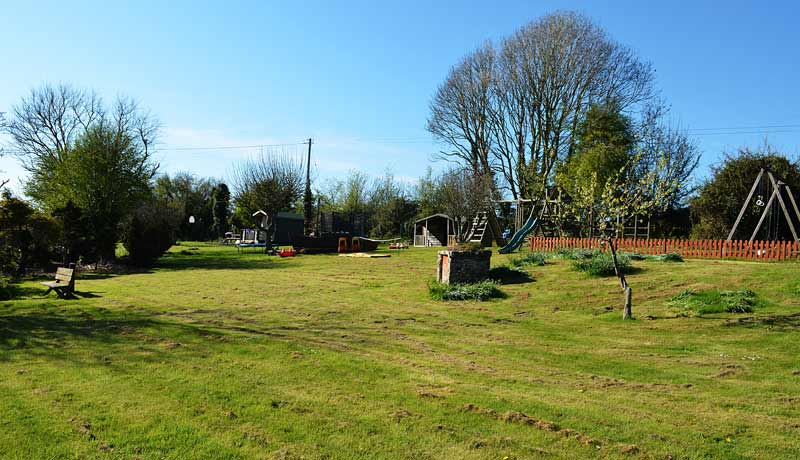 The rear garden area, mainly grassed, provides extensive outdoor play and games areas. The play-area comprises: furnished two-room playhouse, climbing frame with slide, monkey-bars, swings, two trampolines and a selection of ride-on toys. Our old 18' wooden playboat has recently been replaced with a similar GRP boat, complete with covered cabin
Games equipment includes: mini-soccer pitch (two 8' x 6' goals); practice goal; basketball stand/net; marked badminton court (racquets available to borrow); high-jump; maxi chess and draughts.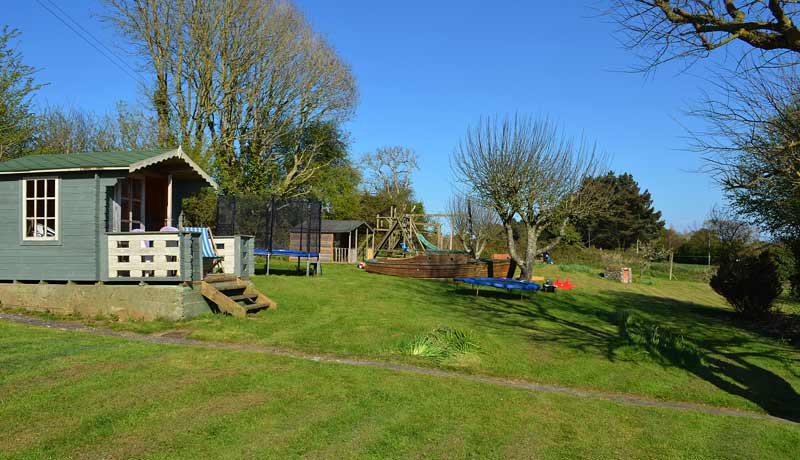 ---
The two Games rooms, open daily 9.30am-9.00pm, provide table tennis, pool table (20p/game) and table football (20p). In one of the Games rooms there is a bookcase containing a selection of adult, childrens and toddlers books to borrow during your visit. The main Games Room houses an extensive display of brochures for places to visit and things to do in the area.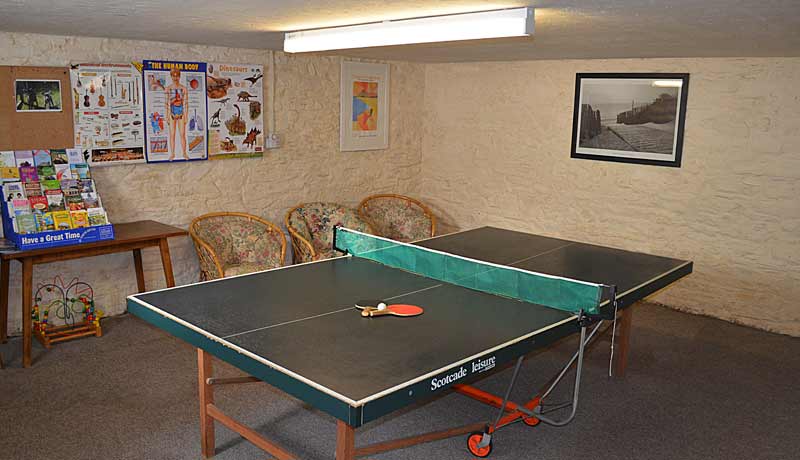 ---
TENNIS: Although we do not have our own tennis court onsite (frustratingly we couldn't quite fit one in), new for 2017, we have an arrangement with the Tarka Tennis Centre in Barnstaple for our guests to have free use of any of the 4 outdoor courts at this impressive facility, subject to availability. The Centre is just 2.5 miles from us at Seven Brethren on our side of Barnstaple, so a very quick journey of 10 mins maximum. The courts may be booked 3 days in advance, and are open daily for 364 days of the year (not Christmas Day), normally from 9.00am till 10.00pm (floodlit after dark). Free hire of racquets and balls is also available. Guests using the Centre can of course also book the tournament standard indoor courts(6), but at the normal rates.
---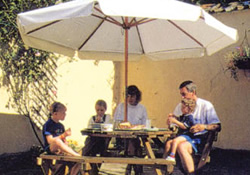 Scattered around the grounds are a number of solid wooden picnic tables and benches, seating up to eight. There are three brick-built barbecues and two portable ones. At the top of the garden, a delightful raised summerhouse with south facing verandah (and selection of garden seats) provides an ideal spot for reading, relaxation or early evening drinks.
---
Although there are cycle hire centres with a large selection of modern bikes on the Tarka Trail at nearby Fremington Quay, and at Barnstaple and Bideford stations, we keep a selection of older adults and childrens cycles available for hire by the half day (£4/cycle) or full day (£6), We also have a child's Tag-a-long, a couple of toddler seats and a few helmets.
From the Quay, the Tarka Trail (part of National Cycle Network Route 3) provides 25 miles of traffic-free cycling through picturesque and varied landscapes via Instow, Bideford (East the Water), Gt. Torrington, Petrockstowe to Meeth. In the other direction, the Trail skirts the edge of Barnstaple (3 miles), then follows the Taw Estuary to Braunton (further 5 miles) and beyond towards Ilfracombe.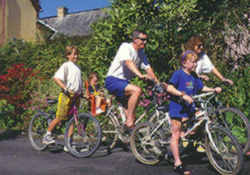 ---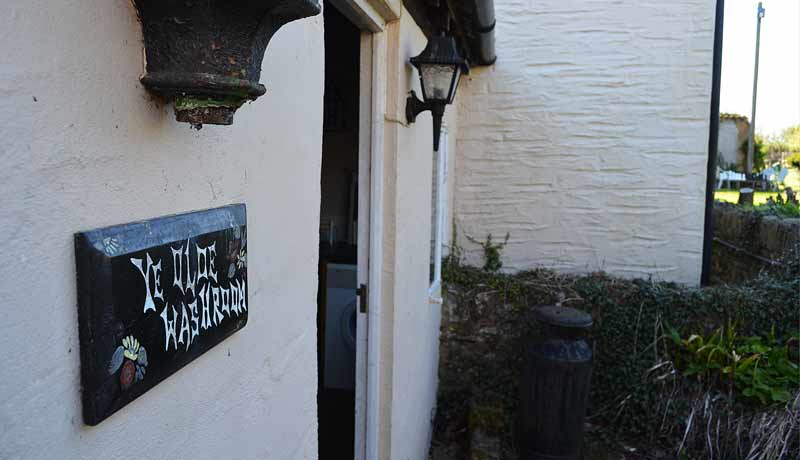 Ye Olde Washroom is a modern well fitted laundry room for guests' use, providing two coin-operated Zanussi washing machines, one tumble dryer, sink and worktops. There is an extensive outdoor clothes drying line.
Washing powder and clothes pegs are provided. A typical wash cycle will cost £1.50.
Additional freezer space is provided in here with a four-drawer unit available for guests who like to bring frozen prepared meals or stock up on arrival.
---
For summer months, we keep about a dozen childrens' wetsuits of varied sizes for daily hire (£3/day) and a few childrens' bodyboards. We also keep a few large cool-boxes and windbreaks which can be borrowed on a daily basis (no charge).
---
A wireless router for guests' use of laptops and smartphones for internet access is located in a small office/kiosk within the main Games Room. Guests can usually get a signal in most cottages, otherwise can use this office area where there is also an ethernet hardwire connection for laptops.